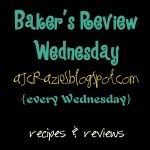 Cinnamon Coffee Cake
1 cup margarine or butter, softened
2 3/4 cup sugar, divided
2 teaspoons vanilla extract
4 eggs
3 cups all-purpose flour
2 teaspoons baking powder
1 teaspoon baking soda
1 teaspoon salt
2 cups sour cream
2 tablespoons ground cinnamon
1/2 cup chopped walnuts
In a large mixing bowl, cream butter and 2 cups sugar until fluffy. Add vanilla Add eggs, one at a time, beating well after each addition. Combine flour, baking powder, soda, and salt; add alternately with sour cream, beating just enough after each addition to keep batter smooth. Spoon one third of batter into a greased 10 inch tube pan. Combine cinnamon, nuts, and remaining sugar; sprinkle one-third over batter in pan. Repeat layers two more times. Bake at 350 degrees for 60-70 minutes, or until cake tests done. Cool for 10 minutes. Remove from pan to a wire rack to cool completely.

***

This cake was so absolutely delicious!! It was simply amazing and I would definitely make it again. It was just moist and yummy and said "more"!! Not that that's really a good thing . . .

But I do repeat . . . make this delicious coffee cake - I urge you to try it and you will find a new favorite . . .

Have a wonderful day!!