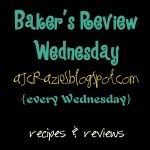 So this week I didn't really "bake". I threw some stuff in a blender, blended it together for
FOREVER
(simply because we have a stupid blender that doesn't work very good)
and then enjoyed a
delicious
frozen drink!!
Orange Julius
frozen orange juice concentrate
ice cubes
milk
vanilla
water
So I have no "set in stone" amounts to make Orange Julius', so I simply dump stuff in. Put in however much orange juice concentrate you want, then add ice cubes, some milk, a few drips of vanilla, and some water. Blend together. If it's to thick, add some water. To thin? Add ice! Not enough orange flavor? Add some more orange juice concentrate.
I tend to make my Orange Julius pretty thick, but you can also make it more juicy.
(You really can use sugar in your Orange Julius if you want to, but I think it's way to sweet then. But I do know some think how mine is it's to sour. That's okay - mine's healthier and tastes better, just so all you know!!)
Did you bake this week (or maybe not really -bake-). Link up your recipe below!