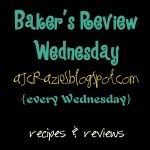 No-Bake Chocolate Chip Granola Bars
1/8 cup butter
1/8 cup honey
1/3 cup packed brown sugar
1 cup quick cooking oats
1/2 cup crispy rice cereal
1/4 teaspoon vanilla
milk chocolate chips
In a large bowl, stir oats and rice cereal together. Set aside. In a small pot, melt butter, honey and brown sugar together over medium heat until it comes to a bubble. Reduce the heat and cook 2 minutes. Pour in vanilla and stir. Pour over dry ingredient and mix well to moisten all ingredients. Pour into greased bread pan pan and press down so it all sticks together. Sprinkle with desired amount of chocolate chips (I just did enough to kind of cover the top - see photo) and press down. Cool on a counter top to room temperature for two hours or until chocolate chips are set. Wrap in plastic wrap and store at room temperature.
Coconut Variation:
Substitute 1/4 - 1/3 of the oatmeal for toasted coconut. Make as directed. Substitute toasted coconut for chocolate chips.
*********
I also tried a couple other variations of these granola bars (I made up all variations), but they didn't turn out so well.
First of all, last night I made only 1/2 a batch of the original recipe, but I used the whole amount of the brown sugar without realizing it (fortunately!). Today when I made a whole batch then, I used the correct amount of brown sugar. The bars turned out to crumbly. They still tasted okay, but I don't think they were as good. I had put m'n'm's on the top of one set of the bars, but it didn't really work - I figured they would be "kid-friendly" bars. (They all liked the chocolate chip ones though, anyway). It might've worked if I had mini m'n'm's or if I had did more brown sugar; I'm not sure. I just ended up crumbling that up and having a granola mix instead of a granola bar:) I think the kids will still like it!!
I also tried a peanut butter chocolate chip variation. I tried using peanut butter instead of the butter, which was apparently not a good idea. The mixture was all thick, so I tried adding regular butter, but it didn't help at all! So I dumped it into the oats mixture and the peanut butter mixture was this hard 'ol ball of stuff and it was hard to get it all mixed in, so there are some areas that are super crumbly because the peanut butter stuff didn't get to that spot. I sprinkled chocolate chips on top once they were in the pan. They taste okay, but I wouldn't make them this way again. I'm thinking maybe I could just make them regular, but then add peanut butter to the oats mixture when I add the honey mixture, without cooking the peanut butter. It might work, but I don't know!
******
So I do think these are DELICIOUS granola bars. As in better than from the store!! And for all you gluten free people, you can have them too! There are so many ways you could try to variate these bars. If you do raisins or craisins, add those. White chocolate chips, semi sweet chocolate chips, butterscotch chips, etc. Make them your own! Or just do plain 'ol chocolate chip, because they're SUPER good!! You really should try them . . .
Have a wonderful day!
If you baked for Baker's Review Wednesday, link up below:)