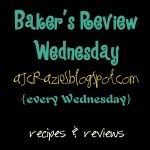 Grasshopper Mint Chocolate Cookies
Cookie bottom:
1 Devil's Food Cake Mix
1/2 cup oil
2 eggs

Mix cake mix, oil, and eggs together (do not follow the directions on the back of the cake mix- disregard them completely). Roll balls of dough and place on baking sheet. Press down slightly. Bake at 350 degrees for 7-10 minutes . Let cookies cool completely.

Peppermint Frosting:
1/2 c. butter, softened
2 Tablespoons milk
2 c. powdered sugar
1 1/2 tsp. peppermint extract
Green food coloring (optional)
Mix together all the ingredients. Spread on top of each cooled cookie.
Chocolate Topping:
1 c. milk chocolate chips
3/8 c. butter
Melt chocolate chips and butter together in a microwave. Spread melted chocolate on each cookie (or in my case, put in a Ziploc bag, cut off the corner, and do a little swirl on top like frosting. I cooked this for 30, then 15 seconds, and it was like to much - crazy! But it still tasted okay and I thought it was kind of cute!)

"The frosting's really good. I like the cookies because the frosting's really good."
Forrest, 7
"They were simply delicious!"
Mom
"They were very delicious and I enjoy eating them."
Tara, 13
"They're really good."
Christopher, 12

Yes, they were very good. Have you ever had grasshopper brownies? They're similar to those, but in cookie form. I thought they were yummy-licious! I would definitely recommend that you try them:)
Did you bake something good (or maybe not so good) this week? Link up below with Baker's Review Wednesday!
Hope everyone is having a wonderful Wednesday!