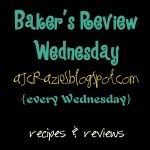 Marble Blondies
Ingredients:
1/2 cup butter (1 stick), softened
1/4 cup + 2 Tbsp granulated sugar
1/4 cup + 2 Tbsp packed brown sugar
1 tsp vanilla
1 egg
1 cup all-purpose flour
1/2 tsp baking soda
1/2 tsp salt
3/4 cup semi-sweet or milk chocolate chips
1/4 cup white chocolate chips
Directions:
Preheat the oven to 375. Grease a square baking pan and set aside. In a mixing bowl, cream together the butter, sugars and vanilla until fluffy. Add the egg and mix. Blend in the flour, baking soda and salt, and mix well. Spread evenly in the pan. Sprinkle with the chips. Bake for 3 minutes, then remove from the oven and run a knife through the blondies in a zigzag pattern to make a nice marble swirl. Return to the oven and bake for 15-20 minutes, or until golden brown. Let cool and then cut into squares.
When doing a double batch (which is what I made) I would recommend using a 15"x10" pan because I used a 9"x13" and the edges got really done since I had to bake it so long to get the center done. The edges were edible -they weren't burnt, but the middle was just WAY better!!
These were super good and I would recommend that you make them:)
Have a wonderful day!!