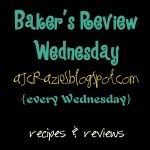 Little Meat Loaves
1 egg
3/4 cup milk
1 cup shredded Cheddar cheese
1/2 cup quick-cooking oats
1 Tbsp. minced onion or 1/4 cup chopped raw onion
1 tsp. salt
1 lb. hamburger
2/3 cup ketchup
1/4 cup packed brown sugar
1 1/2 tsp. prepared brown sugar
In a bowl, beat egg and milk. Stir in cheese, oats, onion, and salt. Add hamburger and mix well. Shape into 8 loaves; place on foil lined pan. Combine ketchup, brown sugar and mustard; spoon over loaves. Bake, uncovered, at 350 degrees for 45 minutes or until meat is no longer pink.
These are the most delicious, yummy meat loaf. You can make them with or without the sauce, depending whether you like it or not:) We do some of both. This is the only meat loaf we ever make though and it's soooooo good!!!
Hope everyone has been having a wonderful week!! Link up your recipes and reviews below. The button code is on the sidebar.