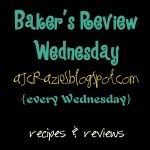 Glazed Doughnut Muffins
from http://www.mybakingaddiction.com
For the Batter
1/4 cup butter
1/4 cup vegetable oil
1/2 cup granulated sugar
1/3 cup brown sugar
2 eggs
1 1/2 teaspoons baking powder
1/4 teaspoon baking soda
3/4 teaspoon ground nutmeg
1 teaspoon cinnamon
3/4 teaspoon salt
1 teaspoon vanilla extract
2 2/3 cups all-purpose flour
1 cup milk
For the Glaze
3 tablespoons butter; melted
1 cup confectioners' sugar
3/4 teaspoon vanilla
2 tablespoons hot water
Directions
1) Preheat the oven to 425°F. Lightly grease a standard muffin tin. Or line with 12 paper muffin cups, and grease the cups with non-stick vegetable oil spray; this will ensure that they peel off the muffins nicely.
2) In a medium-sized mixing bowl, cream together the butter, vegetable oil, and sugars till smooth.
3) Add the eggs, beating to combine.
4) Stir in the baking powder, baking soda, nutmeg, cinnamon, salt, and vanilla.
5) Stir the flour into the butter mixture alternately with the milk, beginning and ending with the flour and making sure everything is thoroughly combined.
6) Spoon the batter evenly into the prepared pan, filling the cups nearly full.
7) Bake the muffins for 15 to 17 minutes, or until they're a pale golden brown and a cake tester inserted into the middle of one of the center muffins comes out clean.
8.) In a medium bowl, prepare the glaze by mixing together the melted butter, confectioners' sugar, vanilla and water. Whisk until smooth.
9.) When muffins have cooled slightly, dip the muffin crown into the glaze and allow the glaze to harden. At this point, you can leave them as is or go for the double dip. I glazed my muffins twice.
10.) Serve warm, or cool on a rack and wrap airtight. Muffins will keep at room temperature for about a day.
These muffins were kind of good, but not the best thing ever either. You can definitely tell that they have the nutmeg flavor in them. I think I should've baked them like a minute less, and they would've been even better.
I don't know about you guys, but I LOVE to try new recipes just to try something different. I'll try stuff that I think looks and sounds good, but it seems so much of the time, it's not really that good. I don't know. But I guess I will continue to try stuff because that's what I like to do:) And SOMETIMES it DOES turn out delicious, like the
Cinnamon Love Knots
:)
Link up your wonderful recipes below:) I need to start tryin' some of 'em . . . The button code is on the sidebar.